Montreal, Wednesday, May 16, 2018
Info-Crime Montreal was on hand during the provincial day of A coffee with a police officer "Café avec un policier" event held on May 15th.
This outreach to citizens is intended to allow everyone to freely discuss various public safety issues and concerns that affect citizens while offering them a cup of coffee.
For this expanded version of the coffee with a police officer, citizens using public transit were lucky enough to receive free coffee at the various kiosks erected in the Montreal, Laval and Longueuil metro stations. Between 9:30 and 11:30 that day, SPVM police officers, along with partners, the STM's transportation network and other police services, exchanged with the public in several places simultaneously.
For its part Info-Crime Montreal was present at metro Berri, a nerve center of the Montreal metro. It is important to mention that Info-Crime Montreal has been supporting this prevention program for more than 2 years by producing cups of coffee that are randomly offered to citizens during sessions.
Lors de l'événement, les citoyens utilisateurs du transport en commun ont eu la chance de recevoir un café gratuit et de s'entretenir avec les policiers dans un contexte convivial.
---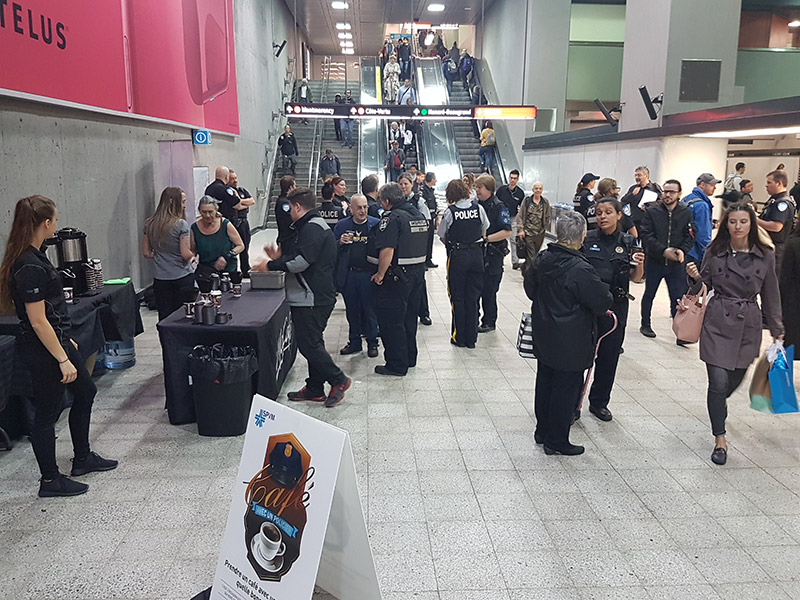 Au total une quarantaine de véhicules de la compagnie de Repérage TAG arboreront à l'arrière une mention d'appui à Info-Crime Montréal et Échec au crime avec leurs coordonnées respectives. Sur le photo, Jason Gallovich et Freddy Marcantonio de TAG posent fièrement en compagnie du PDG d'ICM Jean Touchette, très heureux de cette initiative.
---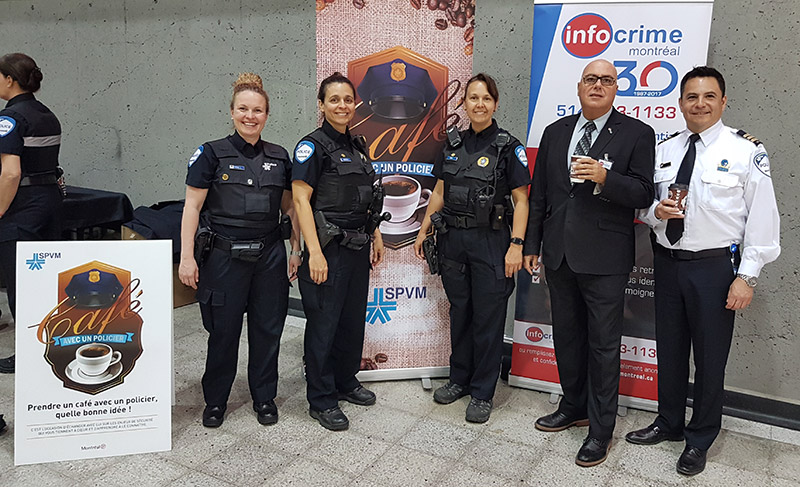 Info-Crime Montreal participated this year in the expanded version of A Coffee with a Police officer. In the photo taken at Metro Berri-UQAM station, we recognize SPVM agents Emilie Toubeix, Véronique Brazeau, Isabelle Morin, ICM CEO Jean Touchette and SPVM Inspector Danik Guerrero.
Pictures from SPVM – Véronique Lussier