May 23, 2023 saw the unveiling of commemorative plaques in honour of our founder.
This tribute event was very important for our organization, with the unveiling of commemorative plaques in honour of the founding President of Info-Crime Montréal, the late Alexander Harper, who passed away on December 30, 2022. The Board of Directors honoured his memory with the installation of commemorative plaques in two SPVM buildings – Neighbourhood Station 7 on Grenet Street, and The SPVM's Western Operations Centre, on Thimens Boulevard in the Saint-Laurent borough.
This initiative was made possible thanks to the immense cooperation of SPVM Chief Inspector Pascal Richard, and Station 7 Captain Pierre-Luc Gauthier. The day of the unveiling, members of the Harper family, the CEO of ICM, members of the Info-Crime Board of Directors, as well as representatives of the SPVM assembled at two PM for a solemn moment with the unveiling of the first wall plaque installed in the entrance hall of Station 7.
In situ, ICM's CEO, Jean Touchette, addressed those present with a posthumous homage to our founding President, Alexander Harper, followed by a speech from Captain Pierre-Luc Gauthier, the event host. Saint-Laurent borough mayor Alan DeSousa also spoke, as he knew Mr. Harper well, all the more since 1987, when at its creation, Info-Crime Inc. established its first location in Saint-Laurent.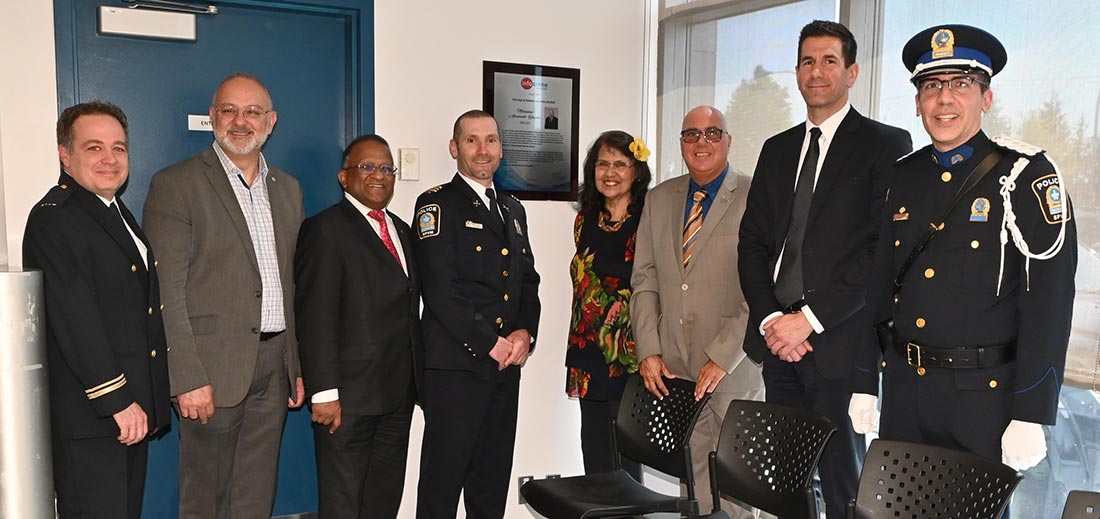 During an emotionally charged event, Alex's oldest daughter, Lynn Harper, spoke at the side of her mother Yvette, her sisters Heather and Catherine and other family members, in order to thank those responsible for the ceremony, which was full of gratitude and emotion for the family. Appreciation for Mr. Harper's work will from now on be permanently engraved in these public spaces, so significant for ICM.