Montréal, November 3, 2017
William Bumbray, the man who marked the history of Info-Crime Montreal, played a major role in the event.
The 30th anniversary banquet drew a record crowd of more than 365 attendees to the event which took place on October 26 last in Le Riviera banquet hall in the eastern part of the Island. The popular event was under the honorary chairmanship of William Bumbray and there never was such a large crowd in the history of the organization, who came together for the cause, according to Samir Hasbani, past President of ICM between 2000 and 2003.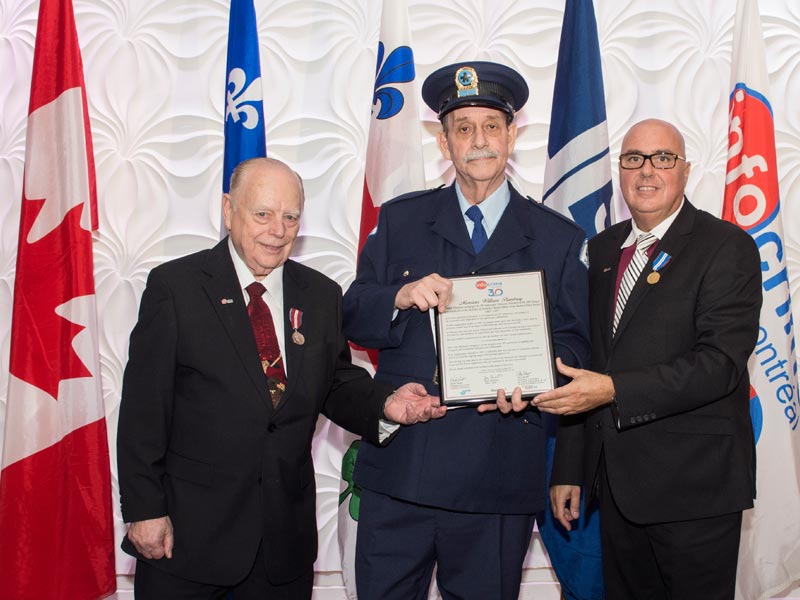 In the photo, at centre, William Bumbray, Honorary President of the 30th anniversary banquet is surrounded, on the left, by the founder and first President, Alex Harper, and on his right, the current President-General Manager, Jean Touchette.
During the colourful evening, animated by Joe Cacchione and under the musical direction of Lynn Harper, the founder of ICM and chairman of the organizing committee, Alex Harper, presented for the occasion 30 honorary souvenir plaques to people who have contributed to Info-Crime Montreal in the past and today.
The evening featured some moving moments, including an homage to the current chairman of the board, André Drolet, who received a standing ovation from those present. In addition homages were extended to the honorary chairman of the event, the legendary William Bumbray who also received a big surprise, announced by Senator Jean-Guy Dagenais, to the effect that he will receive, on November 29 next in Ottawa, the medal struck to for the 150th anniversary of Canada.
Congratulations to Mr.Bumbray and to all of the Info-Crime Montreal team for this tremendous success and above all a big thank-you to the many sponsors…a remarkable teamwork and long life to Info-Crime Montreal.
The list of the recipients follows.
William Bumbray, Honorary chairman of the 30th anniversary banquet, retired officer of the Montreal Police Service (1969 – 1997)
Alex Harper, Cofounder of ICM and President 1987-1993
The late Roland Bourget, Cofounder of ICM in 1987, Director of the Montreal Urban Community Police Service from 1985-1989
The Hon. Martin Coiteux, Government of Quebec – Minister of Public Security
The Hon. Denis Coderre, Mayor of Montreal
Anie Samson, Vice-chairman of the Executive Committee of the City of Montreal with responsibility for public security and services to citizens
Philippe Pichet, director of the City of Montreal Police Service
Raymond Medza, President ICM 1993-1995
Serge Lescarbeau, President ICM 1995-1998
Réal Comtois, President ICM 1998-2000
Samir Hasbani, President ICM 2000-2003
Jean-Marc Girard, President ICM 2003-2007
André Drolet, President ICM 2007-2013
René Trépanier, President 2013-2015
Jean Touchette, President 2015-to the present date
Claude Rochon, Director of the Police Service in 1998
Michel Sarrazin, Director of the Police Service 1998-2005
Alain St-Germain, Director of the Police Service 1989-1994
SPVM information division team
Jean-François Guérin,

TVA nouvelles – LCN, Ambassador ICM

Me Jacques P. Dupuis, Former member of the Quebec National Assembly
Manon Vouligny, Community relations agent SPVM and person responsible for the Unity Without Violence program
Éric Daignault & Sylvie Séguin,

Chambre de commerce et d'industrie de Saint-Laurent / Mont-Royal

Jean-Pierre Harvey, Intact Assurance, principal sponsor of the 30th
Sophie Gravel, ADT-Protectron, sponsor of the 30th
Patrick St-Germain, Haute Protection, sponsor of the 30th
Jean-François Lussier, AVIVA, sponsor of the 30th
Simon Gagné, La Capitale Assurance, sponsor of the 30th
Yves Francoeur, Fraternity of Montreal police officers, sponsor of the 30th
Sylviane Lussier, TC Media, sponsor of the 30th
Info-Crime Montreal is a call for self-respect, help us to continue our mission by distributing the message, by calling 514-393-1133 or by visiting our Web site : www.infoCrimeMontreal.ca
-30-
Source: Jean Touchette - ICM 514 827-6133