Montréal, May 9, 2017
Info-Crime Montreal held its traditional annual breakfast session on May 9 last in the Riviera Buffet located in the Anjou Borough.
Almost 100 people attended the event designed to recognize the work of police officers of the City of Montreal Police as well as the support of various honorary members. For the 2017 edition, the directors took advantage of the opportunity to highlight the 30th anniversary of the organization, including founding President Alex Harper, the current President and General Manager, Jean Touchette and the Director of the SPVM, Philippe Pichet, each of whom made presentations about the development of the organization since its founding and the importance of the role which it continues to play.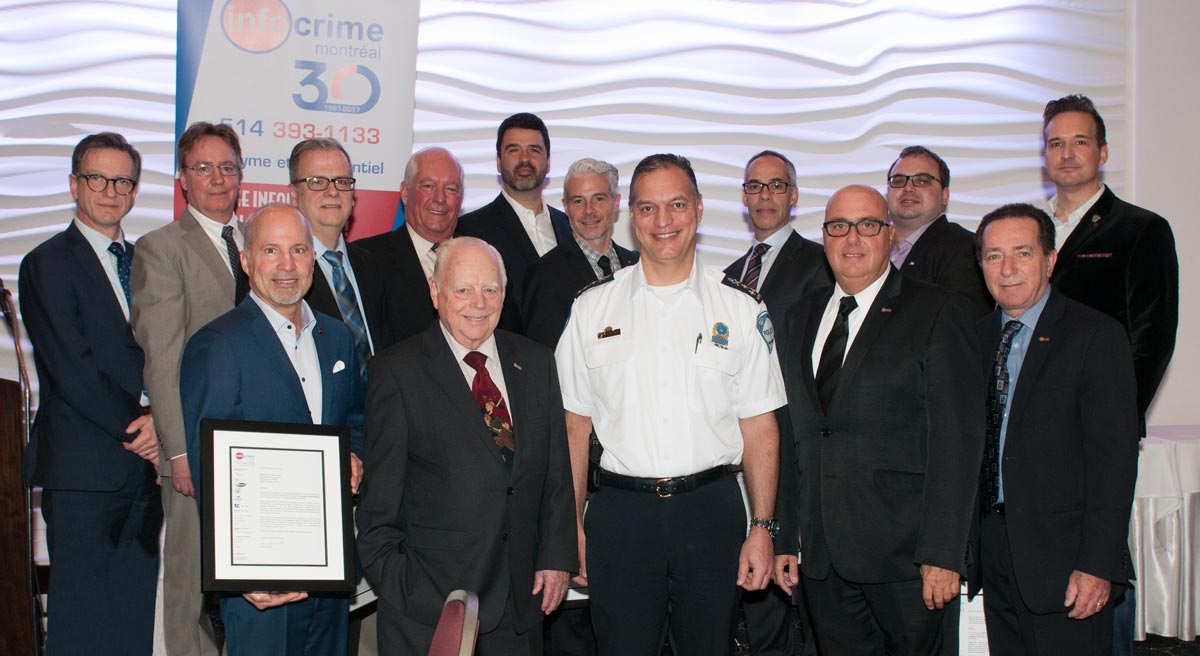 In the photo, Alex Harper, founding President, Philippe Pichet, Director SPVM and the President-General Manager of ICM, are surrounded by the corporate members honoured on the occasion.

This year, nine corporate members and their delegates were honoured : Allstate Canada, represented by André Perra, Economical Assurance, represented by Dino Fontes, Insurance Bureau of Canada, represented by Réal Berger, Caisse Desjardins des Policiers et Policières, represented by Olivier Lapointe, Copart, represented by Yves Poulin, Intact Assurance, represented by Jean-Pierre Harvey, Capitale General Assurance, represented by Simon Gagné, Marquage Sherlock Anti-theft Marking, represented by Mario Desmarais, Promutuel, represented by Simon Bédard, Sobey's, represented by Bernard Keays, as well as TC Média, represented by Nicolas Faucher.
About Info-Crime Montreal
Founded in 1987, Info-Crime Montreal is an independent organization which encourages citizens to fight against crime by communicating, anonymously and confidentially, information about criminal activities. Rewards of up to $2,000 can be paid to a person providing information which results in the arrest of suspects. Info-Crime Montreal is a program in partnership with the City of Montreal which requires the participation of the general public, the media and the police.
-30-
Source : Jean Touchette, ICM - 514 827-6133